Family life can be complicated. From taking steps before marriage to ensure that both parties' assets remain protected to resolving disputes arising from a divorce or adoption, navigating family law is a complex process.
Adding to the complexity of the law in these areas is the fact that any family legal issue is necessarily cutting close to home. More so than in nearly any other area of law, family law is emotionally charged and fraught with potential landmines. Having the right legal representation is vital to protect everyone's interests and serve as dispassionate counselors and representatives when emotions are running high.
So what is a family law attorney, and what issues can they help resolve?
In short, family law attorneys help families navigate legal issues arising from new, changing, or ending family relationships. Some of the primary practice areas include:
Divorce
Divorce and related issues are the main practice areas for most family law attorneys. Whether a divorce is at-fault or no-fault, there are significant legal considerations any time a marriage ends.
When both parties obtain legal counsel to guide them through a divorce, the two attorneys will work with their clients to make the process as simple and efficient as possible. The first step will be to negotiate an agreement that both parties will accept and abide by. If that proves difficult, the attorneys may attempt alternative dispute resolution (ADR) options, such as mediation or arbitration, to help steer the parties toward an agreement.
In more contentious cases, the divorce may go to trial, where a judge will create the final divorce settlement.
Regardless of how the divorce is finally settled, a family law attorney will work to ensure their client's interests are protected, interpret matters of law, and represent their client in negotiations to ensure that facts and not emotions drive the proceedings.
Child Custody, Paternity, and Legitimation
Often, but not always, going hand-in-hand with divorce proceedings, child custody matters are the other most common practice area for family law attorneys. Whenever two or more people disagree on which should have single or primary custody of a child, it is vital to have effective legal representation.
Like with a divorce, family law attorneys in a custody issue will work to find common ground through negotiation and ADR processes. If these attempts fail, the custody issue will be referred to the court, where a judge will decide what custody arrangement will be best for the child.
Even if a custody agreement is settled between the parties without involving a judge, arbiter, or mediator, making sure that the agreement is legally consistent and enforceable is a complicated process that can benefit from solid legal advice.
If there are further disputes, such as one parent violating the terms of the agreement or a need to revisit the agreement because of a move or change in life circumstances, a family law attorney can help the parties navigate the resolution of the issue.
Additionally, a family law attorney can help families negotiate the difficult waters surrounding issues of paternity and legitimation. If there is any question about the identity of a child's biological father, if a child is born out of wedlock, or if there is any dispute as to who bears financial responsibility for a child, a family law attorney can provide counseling and representation during the legal proceedings.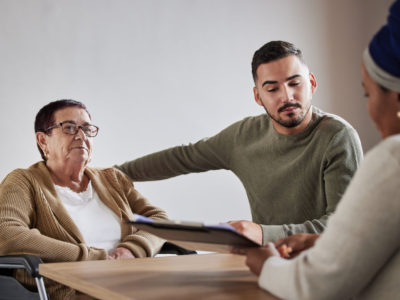 Pre- and Postnuptial Agreements
Before two people start a life together, it can be important to protect their assets if the marriage ends. Pre- and post-nuptial agreements are legal documents that two individuals sign either before or after the start of a marriage. The document outlines what assets each party brings to the new family and how these initial assets will be distributed in the event of a divorce.
Particularly if one spouse has considerably greater wealth than the other coming into a marriage, a nuptial agreement is an effective way of ensuring that both parties' rights and assets are protected should something go wrong.
A family law attorney will review the terms of a pre- or post-nuptial agreement and ensure that the document is prepared correctly and is legally enforceable. They will catch any errors or loopholes that could cause confusion or complication should the agreement ever be executed, saving considerable time and trouble later.
Family Violence
Regrettably, far too many families deal with domestic violence and/or child abuse. In these cases, a family law attorney can help the victims get relief and improve their quality of life. Family law attorneys can help obtain restraining or protective orders, ensure that the orders are enforced, and provide guidance on how victims can escape any cycle of abuse.
Family Law Issues Can be Complicated, Emotional, and Difficult to Navigate. Turn to the Skilled Attorneys at EMC for Help.
Our attorneys are experienced with all aspects of family law and will act on your behalf to help ensure you are properly and fairly represented throughout the process. Tell us about your situation today: 770-225-7000
Related Articles: